CBC: Joint review panel says Northern Gateway Pipeline project is in best interest of Canadians  –  CALGARY HERALD RELATED STORY TODAY: BY JAMES WOOD AND CHRIS VARCOE
---
Don't Forget the Mackenzie Delta!
Will Alaskan and Canadian Investors Merge Their Interests Into the Most Efficient Outcome for Arctic Gas?
by
Dave Harbour
Globe & Mail, TUESDAY by Jeffrey Jones.  

Before the end of the year, Imperial Oil Ltd. and its partners must inform the National Energy Board of its intentions with the Mackenzie gas project, the $16.2-billion pipeline from the Arctic which has stalled due to the flood of cheaper supplies closer to major North American markets.

The people of the Northwest Territories have waited for years for the project to get under way, but with the shale gas revolution in full swing it is doubtful that it will proceed as proposed. In October, Imperial CEO Rich Kruger told The Globe and Mail that the company is studying a revamp of Mackenzie that could see it reborn as part of a larger initiative for export of liquefied natural gas, though a plan is far from finalized.
---
CBC TODAY.  Imperial Oil has announced it will not go ahead with the Mackenzie Gas Project, as the market conditions are just not good right now, says a company spokesman.  … But Pius Rolheiser, spokesman for Imperial Oil, says no construction doesn't mean the project is dead.
Will Arctic gas be monetized within our lifetimes?  If so, will we go it alone or will Canada and Alaska merge interests as they once did four decades ago?  And what about the elephant in the room: 'fiscal certainty'?
Background.  Producers, politicians and natural gas transporters and distributors began designing transportation systems in their minds' eyes even before the 1967-68 winter discovery of Prudhoe Bay's prolific oil and natural gas reserves became reality.
Gas and oil discoveries in the Mackenzie Delta, North of Inuvik, NWT, exacerbated excitement on both sides of the border.
The original, proven gas reserve estimates at Prudhoe Bay of 26 Trillion Cubic Feet (Tcf) have grown to about 35 Tcf, largely as a result of ExxonMobil's later discovery at Point Thomson.
The early Mackenzie Delta gas reserve estimates of less than 5 Tcf have more than doubled since the original discoveries.  Some resource (i.e. not proven) estimates suggest reserves exceeding 15 Tcf.
Currently, Alaska Native regional and village corporations, the state of Alaska and the Alaska North Slope Borough have interests in gas reserve development as do the nearby Canadian Aboriginal companies, villages and the Northwest Territories government.
Industry and political interests first debated then agreed upon west coast delivery points for Alaska oil four decades ago, with the uncodified understanding that northern gas would flow to the Midwest, through Canada.
Energy interests in both countries first worked separately at the beginning, and then together, to identify the preferred route and mode for transporting the gas.
A Canadian 'study group' merged with an Alaska 'study group' in 1971.  The new consortium carefully chose its leaders.  
Canadian banker, William Wilder, chaired an impressive management committee including, at one time, 26 oil and gas production, transportation and distribution company CEOs.
(Map: 1970s era competing projects, courtesy of OFC.  Arctic Gas, Red; Alcan, Black; El Paso, Blue dotted)
Former TransCanada President Vern Horte became president of Canadian Arctic Gas Study Ltd. and former Alaska Lieutenant Government Bob Ward became president of Alaskan Arctic Gas Study Company–the Arctic gas consortium's two operating entities.  Famed Canadian journalist Earle Gray directed communication activity for the Canadian company from Toronto and your author handled communication and government relations functions from Alaska to Washington, D.C. under the close supervision of Ward, the consortium's American vice chairman, William Brackett, and a sub set of the management committee: the Arctic Gas Public Affairs Committee.
At the time, public lands between Prudhoe Bay and the Mackenzie Delta were available for pipeline transportation corridors.  On the American side, the Arctic National Wildlife Refuge was then the protected, but less restrictive, Arctic National Wildlife Range.
In pursuing its alternate routes and modes studies, the Arctic Gas Consortium, spent an unprecedented — at that time — $250 million, on engineering and environmental studies necessary to prepare applications to the National Energy Board (i.e. NEB) in Canada and the Federal Power Commission (i.e. The FPC is now the Federal Energy Regulatory Commission, FERC).
The study of alternate routes, included moving American gas by pipeline from Prudhoe Bay to the Mackenzie Delta.  From there the pipeline would carry both American and Canadian gas to Southern Canada.  Some gas could flow to Canadian markets, while the mainline would bifurcate, moving about a third of the remaining gas to the West Coast and intermountain states.  The majority of gas would supply mid west and eastern states.
All other alternative routes were found to be uneconomic or far less economically feasible, including two routes south of the wildlife range and El Paso Natural Gas' pipeline/LNG proposal.
The buried refrigerated pipeline through permafrost areas was found to be the most efficient, direct mode of transportation.  It would protect the tundra and have the lowest possible operating costs.  All alternative modes were found to be economically inferior, including conversion of gas to electricity and transport via high voltage transmission lines, conversion of the gas to LNG and moving it from the Arctic to southern markets using trucks, railroads, dirigibles, submarines, tankers, etc.
The Arctic Gas project failed to gain NEB approval in Canada; the FPC disapproved El Paso's LNG concept; and, the 'approved' Alaska Highway project failed to overcome economic challenges as the true estimates of its cost became known just as natural gas prices became depressed in the early 1980s.  When gas prices improved twenty years later, governments and industry again became interested in creating and Arctic gas transportation project.
Discussion.  Since Arctic Gas days, American and Canadian governments have made access over the public lands between Prudhoe Bay and Inuvik more restrictive.
One also notes that when the original Arctic Gas project was first studied, the low cost of taxation helped overcome the high cost of Arctic construction, procurement and labor.  But as the 1970s progressed, producers became more and more alarmed that in Alaska "a deal was not a deal".  That is, the Governor and Legislature demonstrated no desire to restrain spending or taxation just because companies calculated their original lease sale bids and later investments on the circumstances then prevailing.  Oil companies in the 1970s experienced almost annual tax increases.
In 1981, Governor Jay Hammond (NGP Photo), joined by legislative leaders in both parties, agreed upon a 'fair share' tax methodology, which provided fiscal certainty until after the turn of the century.
In 2006 Governor Frank Murkowski (NGP Photo) proposed an increase in the severance, or production tax in return for a guarantee of fiscal certainty that would protect future producer investments–including a gas pipeline investment.  The producers and
Governor shook hands, in good faith.  Then, the legislature acted to increase the production tax but denied the recommendation for fiscal certainty.
Adding insult to injury — from an investor perspective — incoming Governor 
Sarah Palin (NGP Photo) then proposed a larger production tax increase which the Legislature increased to an even higher level and then decided to apply retroactively — with Palin's support.
Last Spring, the Legislature adopted Senate Bill 21, reforming Palin's production tax.  With over 90% of the Alaska state operating budget dependent on steeply declining oil production, elected leaders are intent on improving the climate for investing in continuing exploration and development — and in a gas pipeline.
While an improvement in tax policy is now and will likely continue to produce more investment, it cannot overcome the cloud of distrust created by previous government decisions—and a current effort by some legislators, unions and environmental activists to repeal SB 21.  Only some sort of fiscal guarantee against inappropriate government expropriation of private revenues will serve to support an additional $40 – $60 billion gas pipeline investment — in our opinion.
Even if the Governor and lawmakers were to favor such a guarantee, it would surely be accompanied by vigorous debate and opposition since Alaska's constitution jealously guards the State's right to modify tax policy.
Yes, we agree there are certain valid roles for government subsidy.  Roads, bridges and docks come to mind.

As to energy projects, the Alaska Bradley Lake Hydroelectric project is a wonderful example of a proper role for government.

On a larger scale, the Susitna-Watana Hydroelectric project — as Norway has found — could use today's oil dollars to provide 50 or 100 years of inexpensive energy to citizens.  And, yes, until this long-lead-time project comes on line, Alaskans will need other energy sources.

Furthermore, tax and regulatory incentives have their place and have worked in the Cook Inlet oil and gas basin.

Our concern is that too many unprioritized projects levered into existence by public subsidy and designed to energize the same markets could waste money, deflect private investment and result in both abandoned efforts and a diminished treasury.
Adding to that confusion are well intended special interest groups and politicians supporting a bewildering array of energy projects, many of which are not proven to be economically feasible.  Most persevere on the strength of past or present public subsidy, political support and a "strategy of hope".  These include :
The Palin Administration, in our opinion, grievously erred by proposing a financial incentive for the large diameter, Alaska gas pipeline project.  Palin erred because some of her objectives (i.e. "must haves", in return for the subsidy) were already covered under terms of the Alaska Natural Gas Pipeline Act of 2004 and because her action thwarted competition, to a large degree, and limited state prerogatives in other ways.
In any case, the large diameter pipeline is the project most likely to survive, monetize Alaska gas and provide for most foreign and domestic consumer needs in the long term.  This is because it is almost completely under private control of investors who — under proper conditions — will provide the funding and markets and accept most of the risk for project completion.  The other projects, surviving as they must on the tide of diminishing tax revenues and the brilliance of bureaucratic agencies are at best in competition with one another and at worst, are short term remedies accompanied by long term salvage headaches.
Conclusion.
Had we more time and had the gentle reader more patience we surely could have put finer clothing and adjectives on the shoulders of many of today's well-intended government energy projects.  But in fairness, had we done so, we'd have had to extend this essay further to objectively discuss the logical infirmities of each–which must be reserved for a future commentary.
For now, we offer this conclusion:
The state should establish priorities for all pending, state supported energy projects.

For example: if Cook Inlet oil and gas incentives produce significant new gas supplies, perhaps subsidies for other gas projects should be automatically suspended.

One also muses that high diesel fuel is the major driver for subsidized gas and electric projects for Fairbanks–but we hear virtually no discussion about the potential for Alaska to provide subsidized royalty oil to Fairbanks for local refined products.  This solution could both heat homes and generate power–a stopgap measure that protects life and property until a large diameter gas pipeline and/or Susitna-Watana hydro project can provide sufficient, reasonably priced energy.
We first offer a perspective that — aside from the grand, Susitna-Watana Hydro dam, the energy project most likely to survive and succeed, will be the project that remains closest to the free markets.  Fast moving events can more easily confuse slow reacting bureaucratic decision makers than more agile entrepreneurs intent on making and not losing money for their shareholders by providing valuable services and products to the marketplace.
Secondly, we observe — without the liability of special interest influence —  that it would be eminently logical were American and Canadian companies to once again merge efforts.  By combining large volumes of Canadian and Alaskan gas, economies of scale could produce an incrementally better feasibility profile for the project.
A more efficient project would provide more royalties and tax revenue to governments.
A joint project would benefit the related Inupiat/Inuit of the Arctic Slope Regional Corporation lands and Canada's Inuvialuit and Gwich'in aboriginal corporations through contracting opportunities, local property taxes and because some production in both areas flows from indigenous lands.  Other Alaska Natives could benefit from a more efficient project though the 7(i) revenue sharing provision of the Alaska Native Claims Settlement Act (ANSCA).  The most efficient possible project would provide the highest returns to producers, Native shareholders and the state tax/royalty income stream in a highly competitive world energy environment.
Today, the proliferation of shale gas discoveries throughout North America makes that market less attractive for Arctic gas, if not infeasible, when compared with certain Asian markets.
Since foreign markets will likely become the destination for Arctic Gas, LNG transport becomes the mode of transportation.
That leaves routing.  The Globe & Mail and CBC pieces above suggest that Imperial is considering new options for Canadian Arctic gas.  Imperial's US brother, ExxonMobil, is an influential participant on the US side.  Other Alaska producers have interest in Mackenzie Delta gas and TransCanada has been a major supporter of the Mackenzie Valley Pipeline's Aboriginal Pipeline Group and all were once involved in the Arctic Gas Project.  One expects that the subject of a joint, American-Canadian project has at least been discussed, if not studied.
The route, on first glance would involve an approximate 750 mile straight shot from Prudhoe Bay down to the Nikiski area of Cook Inlet.  Gas could flow by pipeline from the Mackenzie Delta to Prudhoe Bay.  Logically, the two governments should allow that pipeline route to safely bury a pipeline in the permafrost on shore over currently restricted areas, like ANWR.  Less logically, a refrigerated line could be buried in the tidal lands offshore ANWR though it would be more environmentally challenging, more expensive, and subject to ice scour and certain corrosive challenges.
Those who opposed earlier "over the top" routes for moving Alaska gas to the Mackenzie Delta and then down to the midwest, could find this reversed concept for movement of Arctic gas/LNG to Asia more palpable
So will Arctic gas be monetized in our lifetimes?  Depends on how long we live.  Some of us have longer than others.  But all of us have lived long enough to know that whether the Alaskan and Canadian Arctic gas reserves are economically combined and transported together, or not, there will be permitting, financing, labor and engineering challenges galore…complicated by environmental extremist opposition, political intrigue and constituent greed.
On top of that will be the final question: will Alaska be able to provide the financial and tax certainty necessary to assure investors that their investment will be treated, in good faith, with respect.  If Canada is involved, could that government provide fiscal certainty on its side of the border?
A bad news ending.  If government is incapable of creating a fiscal certainty guarantee, no private sector investor in his right mind will spend any more time, energy or treasure considering the feasibility of a gargantuan Arctic LNG/Pipeline project involving any route or mode of transportation.
A good news ending.  If solid, fiscal assurance is created, a whole new world of opportunity, prosperity and promise for investors, citizens and the children of the next several generations could reward all concerned.
-End-
​Reference: Our November 2002 Commentary
(Note: We repeat for new readers that our goal is to provide accurate, useful information to readers.  Accuracy is paramount.  In support of our goal, we invite our thousands of readers to send us additions or corrections that contribute toward the accuracy of our communications.   When a valid addition or correction arrives, we try to make appropriate changes immediately.     –dh)
​Reference November 2002 Commentary
---
From the EIA: State Energy Profiles enhanced and renewables sections added
As with national trends, the energy sectors in each state continue to experience rapid changes, including increased oil and natural gas production, new renewable electricity generation, and changing motor gasoline prices. With these and other energy trends in mind, the U.S. Energy Information Administration updated its State Energy Profiles, which are available through EIA's State Energy Portal. There are new analytical narratives on the energy sectors of each of the 50 states, the District of Columbia, and five U.S. territories.
Portal users can also tap into the multilayer mapping function to show user-selected views of fossil and renewable energy resources, oil refineries, pipelines, power plants, transmission lines, and other energy infrastructure.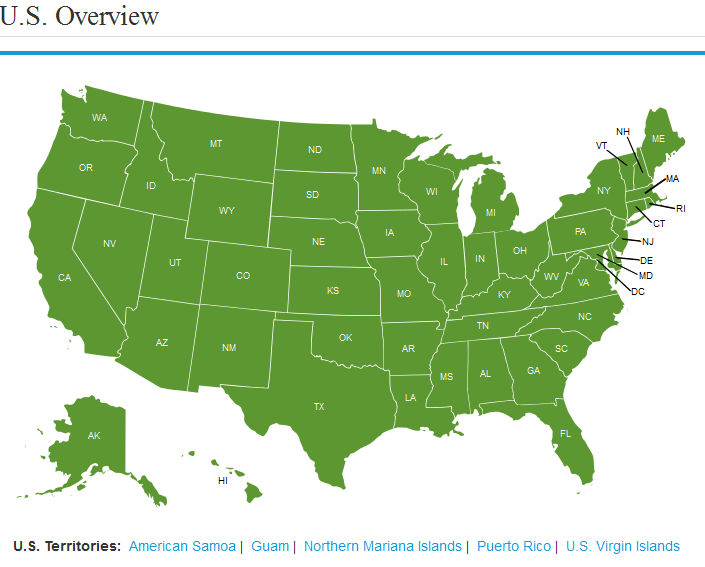 Policy makers, energy analysts, and the general public can access revised state-level analysis on the petroleum, natural gas, coal, and electricity sectors. In addition, the narratives feature a new section on renewable energy that details each state's renewable resources, including biomass, geothermal, hydroelectricity, solar, and wind, and how those resources are being developed.
State Energy Profiles give users detailed portraits of energy production, consumption, and energy prices at the state level. They feature almost 90 key data series, state Quick Facts, and charts for each state. Users can learn state facts such as:
The portal also features state rankings for 10 key energy statistics, a find function to search for state data across EIA, a compare screen that allows users to look at states side by side for a variety of energy indicators, and links to additional resources.​[/fusion_builder_column][/fusion_builder_row][/fusion_builder_container]