OCS Maps
OCS: A Difference of Opinion (Commentary). Yesterday, the Department of Interior boasted of its "…Plan to Make All Highest-Resource Areas in the US Offshore Available for Oil and Gas Leasing." However, in the Obama Administration's unique, passive-aggressive way, it smiles and offers development while withdrawing many of the best areas for development. Is this another sleight of hand designed to "fool most of the people all the time", or "all of the people some of the time?" After reading the side-by-side notes below, our readers can draw their own conclusions as to whether the Administration's below-stated "all of the above energy strategy" is truth or sophistry. -dh
Offshore Areas Open for Drilling when President Obama Took Office
Offshore Areas Blocked for Drilling under President Obama's
Final 2012-2017 Plan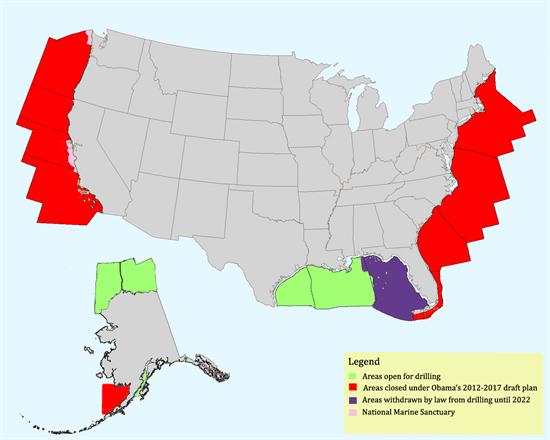 WASHINGTON,
June 28, 2012 – As part of the Obama administration's
all-of-the-above
energy
strategy to expand safe and responsible domestic energy production, Secretary of the Interior
Ken Salazar
(NGP Photo) and Bureau of Ocean Energy Management (BOEM) Director
Tommy Beaudreau
today announced the release of a proposed final offshore oil and gas leasing program for 2012-2017 that makes all areas with the highest-known resource potential – including frontier areas in the Alaska Arctic – available for oil and gas leasing in order to further reduce America's dependence on foreign oil.
Consistent with the President's direction, the Obama administration's Proposed Final U.S. Outer Continental Shelf Oil and Gas Leasing Program makes available areas focused on the most likely recoverable oil and gas resources that the U.S. Outer Continental Shelf is estimated to hold. It schedules 15 potential lease sales for the five-year period, including 12 in the Gulf of Mexico and three off the coast of Alaska.
"Put simply, this program opens the vast majority of known offshore oil and gas resources for development over the next five years and includes a cautious but forward-looking leasing strategy for the Alaska Arctic," said Secretary Salazar. "President Obama has made clear his commitment to expanding responsible domestic oil and gas production in America as part of this all-of-the-above energy strategy, and with comprehensive safety standards in place, this plan will help us to continue to grow America's energy economy and further reduce our dependence on foreign oil, while protecting marine, costal and human health."
Today's announcement builds on a series of actions taken by the Obama administration to meet President Obama's directive to continue to expand safe and responsible production of America's important domestic resources. Successful offshore lease sales held by the Department of the Interior in the Western and Central Gulf of Mexico in recent months have made available approximately 60 million acres of resource-rich areas for industry leasing that will bring additional domestic resources to market.
The Proposed Final Program is designed to account for the distinct needs of the regions across the OCS, and considers a range of factors, including current and developing information about resource potential, the status of resource development and emergency response infrastructure, recognition of regional interest and concerns, and the need for a balanced approach to the use of the Nation's shared natural resources.
"Offshore oil and gas leasing should not be 'one size fits all,'" said Director Beaudreau. "For example, the area-wide leasing model that works for the Gulf of Mexico, where there is a long and consistent history of offshore exploration and development, is not suited to the Arctic. Within the Arctic, where significant resource potential exists, there are also substantial environmental challenges, and social and ecological concerns that warrant a different and more targeted approach that will focus leasing to offer the greatest resource potential while minimizing possible conflicts with environmentally sensitive areas and the native Alaskan communities that rely on the ocean for subsistence use."
The 15 scheduled potential lease sales contained in the plan will occur in six planning areas – the Western and Central Gulf of Mexico, the portion of the Eastern Gulf Of Mexico not currently under Congressional moratorium, and the Chukchi Sea, Beaufort Sea and Cook Inlet Planning Areas offshore Alaska.
In the Central and Western Gulf of Mexico Planning Areas, which have the most abundant proven and estimated oil and gas resources as well as broad industry interest and mature infrastructure, the Proposed Final Program includes annual area-wide sales of all available, unleased acreage, as has been the typical practice in the Central and Western Gulf of Mexico. Additionally, within the portion of the Eastern Gulf of Mexico Planning Area made available for leasing under the Gulf of Mexico Energy Security Act, there are two scheduled sales there.
For offshore Alaska, the Proposed Final Program schedules three potential sales – one each in the Chukchi Sea and Beaufort Sea Planning Areas that span the Alaska Arctic, and one in the Cook Inlet Planning Area off of south-central Alaska.
"We are committed to moving forward with leasing offshore Alaska, and scheduling those sales later in the program allows for further development of scientific information on the oil and gas resource potential in these areas and further study of potential impacts to the environment," said Deputy Secretary of the Interior David J. Hayes. "We must reconcile energy resource development with the sensitive habitats, unique conditions and important other uses, including subsistence hunting and fishing, that are present in Alaska waters."
The Proposed Final Program re-affirms existing protections for Arctic coastal areas by continuing to exclude certain areas from leasing, including a 25-mile buffer area near the coast of the Chukchi, as well as two subsistence whaling areas in the Beaufort near Barrow and Kaktovik, Alaska. The program also identifies an additional exclusion area in the Chukchi, near Barrow, that will not be made available for leasing because of input received from Native Alaskan communities and because the area is known to be of particular importance for subsistence hunting and fishing. With respect to all other areas in the Arctic that are open to oil and gas exploration and development in the Proposed Final Program, BOEM will identify targeted areas to offer in the lease sales based on information the agency will gather about industry interest, resource potential, subsistence hunting and fishing, wildlife, and environmental sensitivities.
"We are taking a cautious approach to leasing in the Arctic that accounts for the Arctic's unique environmental resources and the social, cultural and subsistence needs of Native Alaskan communities, and draws from the best available science as well as any new information that we may learn from activity on current leases," added Secretary Salazar. "When it comes to domestic production, the President has made clear he is committed to producing more oil and natural gas safely and responsibly. The numbers speak for themselves: every year the President has been in office, domestic oil and gas production is up, imports of foreign oil are down, and currently the nation is producing more oil than any time in the last eight years."
As is mandated by the OCS Lands Act, the Proposed Final Program has been submitted to Congress. The Secretary may implement the Program in 60 days, however no further action is needed prior to its implementation, and BOEM is on track to hold the first sale under the new program later this year. Earlier this month, BOEM held a lease sale for nearly 39 million acres in the Central Gulf of Mexico, which attracted more than $1.7 billion in high bids for more than 2.4 million acres. That follows on a Western Gulf of Mexico lease sale held in December 2011, in which 21 million acres were offered for lease.
Click on the links below to view the items being released in coordination with the Proposed Final Program.
WASHINGTON, D.C., June 28, 2012 – House Natural Resources Committee Chairman
Doc Hastings (NGP Photo) released the following statement after the Obama Administration issued the 2012-2017 offshore lease plan that closes 85 percent of America's offshore areas to energy production.
"The Obama Administration has neglected their duty to provide a roadmap for America's offshore energy future by tossing aside a plan to expand production and failing to produce a plan of their own for three and a half years. Today, the Obama Administration has announced a bleak future for American energy production by keeping 85 percent of America's offshore areas under lock and key and refusing to open any new areas to drilling. This plan re-imposes the drilling moratoria lifted in 2008, hurts job creation and keeps new areas of American energy production sidelined.
"Because of this Administration's actions, people are worse off today than they were three and a half years ago. Today's news only hamstrings job creation, energy production and the economy for another five years. President Obama simply cannot be taken seriously when his energy and job creation rhetoric do not match up with the reality of his actions. There is far too great of potential to put people back to work, improve the economy and make American more energy independent for President Obama to ignore America's vast offshore energy resources.
"House Republicans have passed a bipartisan plan to create over a million jobs by opening the offshore areas that contain the most oil and natural gas resources to energy production. Yet, the Obama Administration opposed the plan and the Democrat-controlled Senate has refused to act on this common sense job creation bill. It's extremely disappointing that the Obama Administration continues to have such a narrow vision for American energy production."
Background:
Offshore drilling plans are subject to multiple levels of public comment and review. This plan is not considered final and enacted into law until it undergoes a mandatory 60-day Congressional review, per Section 18 of the Outer Continental Shelf Leasing Act.
In order to complete all the legally required steps to have a new plan in place by July 1st, President Obama would have had to submit his plan to Congress by May 1st. This will be the first time the U.S. will not have a plan in place since it became a requirement in the 1970s.
FOR IMMEDIATE RELEASE CONTACT: ROBERT DILLON (202) 224-6977
JUNE 28, 2012 or MEGAN MOSKOWITZ (202) 224-7875
---
Sen. Murkowski Comments on 2012-2017 Offshore Leasing Plan
WASHINGTON, D.C., June 28, 2012 – U.S. Senator
Lisa Murkowski
(NGP Photo) today made the following comment on Interior's five-year offshore oil and natural gas leasing program for 2012-2017:
"The leasing plan released today falls far short of what's needed to get America's faltering economy back on track. It removes nearly 90 percent of the acreage previously available for energy exploration.
"While it offers the possibility of two lease sales in the Arctic, it substantially delays them and raises the possibility that they might not happen at all. The final plan unilaterally takes millions of acres in the Arctic off the table, in the form of buffer zones and so-called 'study areas.'
"The administration also continues to ignore calls for lease sales off the coast of states such as Virginia and South Carolina, despite strong support from those states.
"While the administration resists opening any new acreage, nearly every country bordering our waters is showing no such hesitation. Cuba, Mexico, the Bahamas, Canada and Russia are all moving ahead. It's time to roll up our sleeves and put Americans back to work producing the energy we need to be competitive. Hesitation and delay will not right our economy."
In November, Murkowski wrote about America's failure to keep up with development on its borders in
The Wall Street Journal
.
###
---
WASHINGTON, D.C., June 27, 2012 – The Center for Biological Diversity today sent a letter to House Natural Resources Committee Chairman Doc Hastings claiming their organization had only received $553,000 in taxpayer funds resulting from Endangered Species Act (ESA) related attorney fees and court cases. This claim conflicts with data obtained from the Department of Justice (DOJ), which shows over $2 million in taxpayer dollars have been paid out to the Center for Biological Diversity and their attorneys for cases open between 2009-2012.
The Center for Biological Diversity appears to have derived their erroneous number by including only checks made out directly to the Center for Biological Diversity over a select period of years. Attorney fees are typically paid out to the attorney of record. The Center for Biological Diversity is conveniently failing to include the majority of funds that were paid directly to their hired lawyers. Nine of the lawyers who have received payouts are currently employed by the Center for Biological Diversity.
"American taxpayers have a right to know how much of their money is going to pay attorneys and settlement costs for lawsuit-happy organizations that make a living off of suing the federal government. The numbers from the Justice Department speak for themselves," said Chairman Hastings. "One frequent collector of taxpayer dollars spent a week inventing a way to misconstrue and hide data to make it appear as though they haven't received millions in taxpayer dollars. The most direct way to have openness and transparency on exactly what funds a group has taken from taxpayers in ESA-related settlement and attorney fees is for them to publicly reveal all of their data for the past two decades."
On March 19, 2012, Chairman Hastings sent a
letter
to the Environment and Natural Resources Division of the Department of Justice asking for detailed information on how much taxpayer money is being spent on ESA-related litigation and settlements. In response to this request, DOJ ran a search through their Case Management System ("CMS") and provided the Committee information based on all cases where the ESA was one of the statutes at issue in the litigation.
According to this
document
from the DOJ containing 276 pages of case information, the Center for Biological Diversity was involved in over 50 individual cases, open between 2009 and 2012, where they were the lead plaintiff. The amount of attorney fees and court costs associated with these cases is $2,286,686.91. Of this amount, $138,114.45 was in court costs and $2,148,572.46 was in attorney fees.
These five examples alone of court cases filed by the Center for Biological Diversity where CBD received attorney fee payments between 2009-2012 far exceeds the $553,00 that the Center for Biological Diversity claims to have received: